There are many reasons causing the concrete defects, some defects are able to identify just by looking at its appearance. If the concrete is distressed significantly, it will crack eventually. But the cracks may be of varying intensity.
Below are the 17 common types of concrete cracks and defects:
1. Crazing
These refer to fine cracks on the concrete surface. Essentially these hexagonal cracks are as big as 40 mm and can be as small as 10 mm. But these are never very deep. At the most, they are about 3mm.
But the good news is they do not harm the overall concrete structure. They can, however, impact the overall looks of the building to a large extent.
Causes:
Crazing is normally an outcome of inadequate curing after the initial set. Additional surface laitance can also lead to crazing.
Several other inaccurate construction practices can also result in crazing.
These include finishing with float, sprinkling dry cement on the surface. If fines are allowed to concentrate on the concrete surface, that too can result in crazing.
Solutions:
One of the easiest ways to address it is by following good construction practices.
If you start curing in time, it will prevent significant damage in this context. Continuous water or moisture supply can be a solution too.
Avoid covering the surface with dry cement and introduce ways to ensure Air-entrainment. That reduces crazing potential to a large extent.
2. Disintegration
This essentially refers to any type of concrete damage. It can be scaling, peeling and eventual collapse. Essentially the concrete keeps breaking into small pieces in various ways.
Normally, the disintegration process begins with scaling and eventually results in big chunks falling off. If left unattended, it can even result in the entire structure collapsing.
Causes:
There are many triggers for this disintegration of concrete, these include:
a) Alkali-silica attack
b) Carbonation
c) Chloride attack
d) Sulfate attack
e) Acid attack
The disintegration is essentially an outcome of some form of contamination or adopting inappropriate construction practices.
Solutions:
The best way to solve it is to make sure there is no external contamination of harmful elements. The quality of the aggregate also has to be inspected carefully.
3. Plastic Cracks
Essentially these refer to concrete cracks that happen when it is still in the plastic phase. This is generally seen in dry and hot areas.
It is an outcome of the fast drying of the moisture level on top. The upper surface becomes stiff and as a result, can affect the overall concrete quality.
Causes:
One of the most basic reasons why this happens is lack of adequate curing. You can see these issue, particularly in hot and arid areas.
When the moisture dries up so fast, the volume of the concrete changes all of a sudden. As a result of this, the cracks develop.
Solutions:
Proper curing is perhaps the best way to address this problem. Concrete needs step by step attention and care for the best outcome. The moment, the construction practices are compromised, there are chances of a crack developing over the longer period.
4. Hardened Cracks
The term hardened cracks refer to cracks in concrete after it has hardened. Almost inevitably, these cracks are quite deep and result in significantly huge damage in certain cases.
Causes:
These superficial cracks are mostly due to expansion and shrinkage of volume between cycles of drying and wetting the concrete.
Inappropriate curing can also result in this type of cracks.
Solutions:
Application of proper reinforcements and following quality construction standards can help address this issue to a large extent.
Proper compacting of the concrete can also help address this issue to a significant extent.
If the cracks are superficial and closer to crazing, appropriate troweling will help reduce the impact.
5. Scaling and Mortar Flaking
This essentially refers to the peeling of the superficial concrete layer. The severity of this can differ. The light scaling only mars the external looks while you can see the aggregate in the moderate level of scaling.
Mortar flaking is generally a little more severe format of this. In this case, smaller chunks of concrete come apart. These are generally more of shallow cracks.
Solutions:
A proper mix of air-entrained supplements can go a long way in reducing this problem. Maintaining adequate water-cement ratio and proper curing also help tackle this issue to a large extent. You may also look at using a sealer to tackle the flaking and scaling problems.
6. Delamination
This is one of the more serious types of concrete cracks. It is normally identified by the hollow sound that you can hear when it is lightly tapped.
This is by far one of the easiest ways to identify these kinds of cracks in a concrete slab.
Causes:
Often the solid particles settle when a compacted concrete slab is left to cure. This sometimes leads to the excess water and trapped air bleeding out of the slab. This creates small pockets or gaps in the concrete.
Solutions:
The best way to stop this is look out for concrete slabs that are bleeding. Keep them aside and complete their finishing process after the bleeding is over completely.
Also following good construction practices is the best way.
7. Overloading Cracks
As you can well understand the name, these are cracks that result due to myriad overloading issue.
Concrete is created with a certain specific overload provision. However, if there is additional load on the same concrete, it damages the structure. The crack happens eventually.
Causes:
Basically, in this case, the overload is significantly higher than what's accounted for in the building basics.
The tension, shear and the flexure can all be impacted by this overload factor. The way they yield to pressure can differ. They will build different types of cracking trends.
Solutions:
The best way to reduce it is to cut down the additional load.
Builders must carefully assess the load factor and undertake modification accordingly.
Once again adopting safe building practices may be the best way to handle this condition.
8. Spalling
This is the severe concrete issue which will start from cracking and later turn to concrete fall off.
Causes:
This is the outcome of the corrosion of steel reinforcement or improper joints construction.
These steel reinforcements are embedded in the concrete. When corrosion sets in, the rust expands in volume. As a result, there is also a significant amount of tension. This internal tension leads to cracks in concrete.
The surface that is closest to the corroded metal starts breaking off. The reinforcements are exposed as a result.
This leads to further contamination and more intense corrosion. In case spalling happen over a large area, the building may eventually collapse as well.
Solutions:
You have to make sure that you avoid corrosive elements as much as possible. Acid formation leads to corrosion. You have to ensure that the pH balance is maintained. Ensure the joints are well located in the proper positions and distances.
9. Shrinkage Cracks
This is one of the most severe types of concrete distress. Improper curing, sawing joints incorrectly and poor steel reinforcement results in this type of shrinkage cracks.
Causes:
Essentially any sudden or drastic drying method that results in rapid moisture evaporation results in this type of shrinkage cracks.
Solutions:
Depending on the severity of the cracks, it is possible to resolve a few by filling in the gap. But in case it is too severe, the entire concrete slab has to be replaced.
Maintaining a strict water-cement ratio is very important to avoid this condition. Moreover, you can look at using reasonably effective moisture reducing agents for better results.
10. Structural Cracks
This is one of the more severe types of faults in concrete. Almost inevitably they may result in building collapse or structural collapse if they are left unattended for long.
Causes:
This is the type of cracks that are primarily due to inaccurate designs and constructional faults. They may result due to inaccurate overloading as well.
Solutions:
The only way you can prevent these is by following construction best practices. You have to adhere to strict constructional rules and needs proper planning. Systematic execution is also important.
11. Popouts
As the name indicates, these are small pockets. The mortar on the surface of these areas peel-off and this leads to cone-shaped holes. This leads to further contamination of the material inside and worsens the concrete's sustainability.
Causes:
This is primarily due to impure aggregates. The offending particle absorbs additional moisture and swells. The popout is primarily the result of the pressure exerted due to expansion. Though the damage from this is limited, immediate repair is crucial.
Solutions:
However, the only way to stop it is by using good quality aggregate and opting for air-entrained concrete.
12. Low Spots
Often you will notice select areas in your driveway, patio or garage where the rainwater inevitably collects or the rainwater and accumulates as a pool of water. Well, these are the low spots.
Causes:
They are primarily caused due to faulty designs.
Solutions:
It is best to remove the loose concrete chips and then level the area again. You must ensure that it is at the same level. It is important to use air-entrained concrete for best results.
13. Efflorescence
This is essentially salt deposit on the concrete surface. Though it does not damage any construction, it looks ugly.
Causes:
It can be a result of the presence of hard water.
It can also be a result of carbonation of evaporation after the concrete has hardened.
Basically is due to the soluble salts dissolved in water and migrated to the surface. These salts will react with the carbon dioxide in the air to form calcium carbonate which is an insoluble material.
Solutions:
The best way to avoid efflorescence is by making sure that you optimize the cement mix you are using. Proper curing and appropriate admixtures can also solve the problem.
14. Dusting
Dusting is a kind of powder accumulation. It is actually a situation where the concrete begins to turn into powder on the top.
Causes:
This is because of the intrinsic weakness in the concrete, and the top layer begins to peel away. Inappropriate concrete mix, excess silt, and improper curing can result in dusting.
Solutions:
Silicone sealers are a great way to stop dust. You can simply clear the surface that is dusting and apply these sealers. You can also choose to apply Lithium based densifiers for best results.
15. Discolouration
Concrete discolouration can due to many reasons like inconsistent cement mix, calcium chloride content or even modifying the cement-water ratio in concrete.
The aggregate quality also has a significant bearing on the overall impact.
Solutions:
The only way is to maintain an overall consistency in mixing the different elements of construction. Moreover, you must look at sourcing good quality aggregates for best results.
16. Curling Distortion
Often you will see concrete slabs losing their flat surface. Instead, they curl.
Causes:
This curling distortion is primarily due to inaccurate moisture proportion or difference in temperature when the concrete slab is created. As a result, the slab loses its linear structure and curls when pressure is exerted on the underlying layers.
Solutions:
Controlling the temperature and proper curing are the best ways to tackle this problem. That can help reduce the curling significantly.
17. Blisters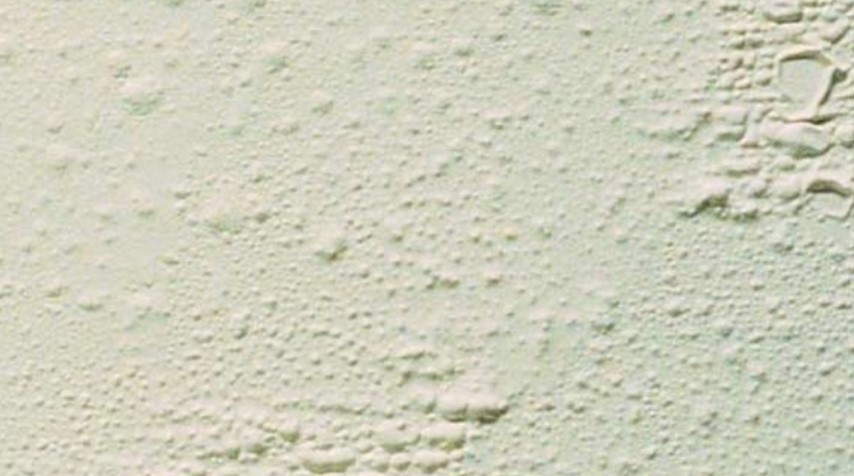 These are essentially small bubble-like bumps on the concrete surface. If proper time and attention are not spent on them, it can result in discrepancies and construction faults.
Causes:
This can result due to water or air bleeding out of concrete. This typically results due to insufficient curing and premature sealing. The finishing steps in concrete manufacture are crucial.
Solutions:
Allow sufficient time for the air and water to escape from the wall before sealing the wall.
You Might Also Like:
1)  3 Main Factors of Concrete Failure
2) 15 Types Of Cement For Concrete Construction