Increasingly people are exploring various options to introduce the wow factor to their regular flooring. One of the most popular ones in this regard is undeniably pebble wash.
It is practical, useful and instantly attracts attention. Particularly for bathrooms and outdoor compound, it opens up the scope to introduce several fun elements to the overall flooring.
Advantages of Pebble Wash
There are several advantages of converting your regular ceramic tile floors to pebble wash.
Not Prone to Slipping: This is particularly advantageous if you are using this kind of flooring in the bathroom. The same is true for any other part of the house as well. The texture of the pebble wash creates friction and prevents slipping.
Does Not Catch Dust– It is the same texture that also prevents dust from settling on the floor. It means that your floors can be cleaned easily, it would not get dirty that often and maintenance too becomes easier.
Trendy Designs: There is no dearth of designs in pebble wash either. They are stylish, trendy and in sync with the latest styles globally. This further adds to their appeal.
Multi-functional: Last but not the least important, this kind of flooring is multi-functional. It can be incorporated in any corner of the house and can serve multiple purposes in one go.
Different Kinds of Pebble Wash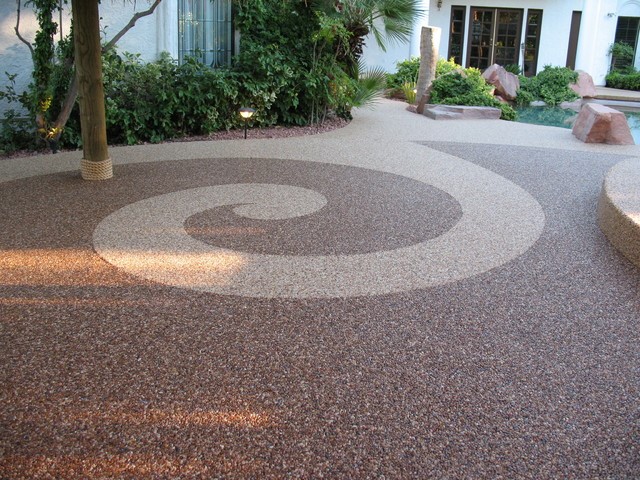 Pebbles come in different forms and colors. Therefore, it is only natural that you have different types of pebble wash flooring options. Of course, the different varieties serve different purposes.
Landscaping: This is exactly why a pebble wash could be just the ideal way to do up the garden surrounding your house. It gives a natural earthy feel, yet ensures that maintenance of the garden is never a problem.
Cobblestone: Be it your driveway or backyard, the cobblestone is one of the most popular pebble wash variants. It is convenient and adds a unique earthy touch to your overall home decor.
Polished Pebble Tile: This is the most common pebble wash flooring for bathrooms. It is out of the ordinary, makes for safe flooring and adds to your convenience like never before.
Pebble Mosaic: This is another variant of the pebble wash tiles used for bathrooms. These have a relatively smoother finish and provide a striking impact.
Why Should You Hire Us?
But it is important to get the right product installed at the right place. That alone will help you get maximum advantage.
Great Quality: If you are looking for pebble wash in Malaysia, we can guarantee the best quality options for our clients. Our experience and strong network help us bring you the most genuine options.
Extensive Range: That means you are also spoilt for choices. Whatever be the preference you might set, you are sure to be pampered with options.
Customized Offering: Not just that, we also customize products to suit our customer's specifications. That means you can get a unique option that caters to your need specifically.
Quick Service: Prompt service is what makes our offering even better. Most of our clients value this aspect the most.
Contact Us Now
So if you are looking for pebble was options, simply contact us. We promise to offer you value for money deals that would literally amaze you.