Home decor has reached a completely new level today. From the floor to ceilings, there is no dearth of options to do up your house in style. Let us concentrate on your floors article.
Carpets, wood, laminate, tiles, there are innumerable ways to cover your floors today. Each one has some distinct advantages and some pockets of concern too.
However, floor tiles undeniably score very high on the functionality aspect too. They don't just offer a convenient option to decorate the floors but are also synonymous with easy maintenance.
Not just that these tiles are also extremely sturdy and durable. Moreover, most tiles are also extremely environment-friendly.
This means they do not contain volatile organic compounds or VOCs that can result in serious health issues.
In short, tiles are affordable, easy to clean and maintains your health too. What's even better they come in a wide array of options.
Let's explore 25 types of tiles materials for flooring and wall as below:
1. Mosaic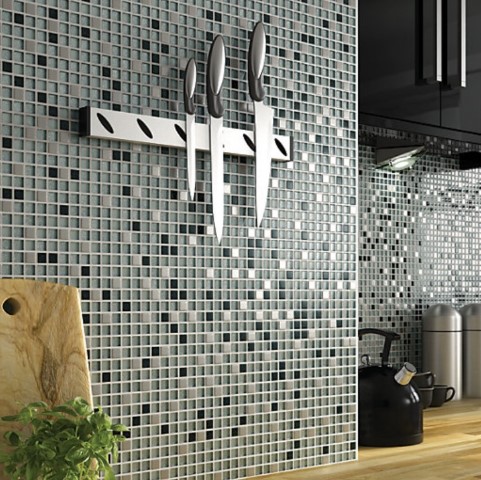 The term mosaic refers to a medley of various small items like coloured stones and glasses on a frame. When you try to get the same on a tile, it becomes a mosaic tile.
Most of the mosaic tiles, therefore, are made of small and colourful stones. On an average, most of the pieces are square in shape to maintain parity. When small rounded stones are used in the tiles, it is referred to as tile mosaic.
These tiles can be made of both glass and ceramic. Given the collection of small stones, the mosaic tiles are very sturdy and last a long time.
Overall, they lend a unique identity to your floor. But on the other hand, they merge quite easily with each other.
2. Ceramic

This is perhaps one of the most commonly used tile variants. Whether you look at residential properties or commercial ones, a hotel or a store, you will see a wide range of ceramic tile options adorning the floor.
These tiles are primarily of two types. It is either glazed or unglazed. They are very environmental-friendly, and maintenance of these tiles are quite easy as well. They are also an extremely cost-effective alternative.
But the most important aspect is, they can be replaced quite simply. Unlike a lot other expensive alternatives, you don't have to look at settling with a cracked tile.
You can easily replace a damaged piece yourself also. Just make sure, you have some extra tiles handy.
3. Quartzite

It is a unique kind of metamorphosis rock that lends an understated class and charm to the floors.
The base material is originally sandstone and is transformed as a result of extreme heat and pressure.
The naturally beautiful texture and subtle brilliance of these tiles always make it a centrepiece at your house.The natural colour also lends a warm and earthy feel to your house.
That said, this tile is extremely durable and versatile too. You can pretty much use it almost anywhere, be it your living room or bedroom, house or office. The one thing that's guaranteed is great looks and superior quality.
4. Onyx

This is another soft stone-based tile. The natural sheen and lustre of the stone add a unique dimension to your home decor. The earthy colour and warm tones lend a distinctive identity to your house.
Yes, the Onyx tiles are best suited for interior flooring. It can also be a convenient alternative for countertops. The smooth texture of the tiles makes it ideal for calm corners in your house.
One thing that you can be sure of with an Onyx tile is that you will make heads turn wherever you use these. The bright and vivacious colours always make it stand out amidst a host of other tiles.
Needless to mention, the warm tones also brighten up the rooms quite significantly and exude a welcoming glow.
5. Stone and Pebble

As you can well understand from the name, this type of tile is essentially a kind of mosaic. But unlike conventional mosaic tiles, you use relatively bigger sized stone in it.
The natural and earthy colours coupled with the typical natural shapes create a heady mix of charm and style. No two stones are similar in shape, and that is what makes these tiles so unique and sought after.
Extremely versatile, they look beautiful both inside the house and also outside the house. Whether you use them in the exterior passage or your master bathroom, your floors will shine with their natural glow.
Wherever you install these tiles, they become the central point of focus.
6. Granite

The mention of Granite often makes you think about the kitchen countertops. They are solid, durable and add a sense of glamour.
The good news is they now made it to your floor as well. These tiles are water resistance, easy to clean and convenient to use. They are also anti-bacterial in nature.
As a result, you can easily use granite tiles for your bathroom, kitchen and all other areas that are exposed to excessive water use.
These are also very sturdy so the risk of the tile cracking is quite limited. So it is a rather durable alternative for you.
7. Marble

This is another traditionally popular flooring material. From times immemorial Marble has been used to create stunning floors.
From the Taj Mahal in Agra to the Duomo in Florence, there is no dearth of historical architecture using the white stone.
Even today, these marble tiles stand for luxury and make a statement in any house where they are used.
While cleaning these is not a big hassle, you have to remember that these are very porous. They have to be sealed for best results.
These are available in several colours and often each one has a distinct pattern. It is an ideal flooring solution for just about anywhere.
8. Slate

This is again a type of metamorphic rock which is popular around the world. The vibrant colours and the natural lustre makes it a great alternative for your floors.
They are easily available in a wide array of colours including black, brown, navy, copper, red and most other earthy shades. This means that you have a fairly large range of options to choose from for your house.
You can use these as a flooring solution for any room in the house. They are also a convenient option for the exterior of the house.
In many instances, they are also used in the roof. These tiles are heat resistant, environment-friendly and durable.
But on the other hand, they are also very heavy and susceptible to cracking very easily.
9. Porcelain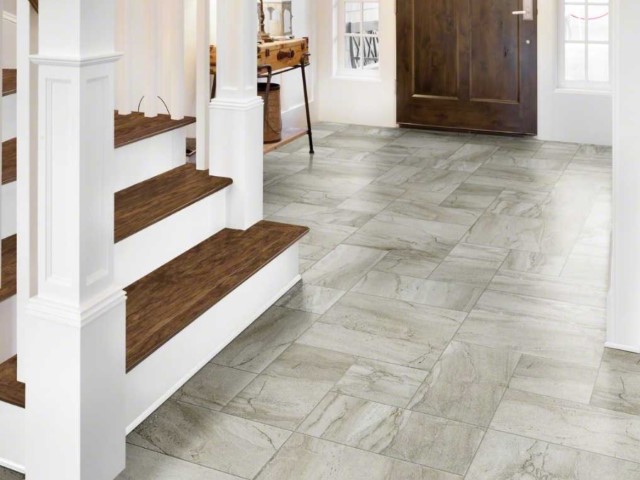 These are fabricated tiles, but they are made of natural clay. This is a fairly high-density floor tile and has many usages inside the house as well as outside.
These tiles are extremely heat resistant as they are made by heating clay. That is also another reason why they are so dense.
They are available in a wide range of colours and sizes. Needless to mention, this makes the tiles suitable for any type of room and walls.
Additionally, it is simpler for them to fit easily into any kind of home decor. So it enhances the home owner's flexibility in terms of fitting in the same type of tiles for different décor options.
10. Travertine

These are relatively soft tiles. They must be sealed with several coatings of a sealant.
A natural limestone tile, this is a cost-effective option for many looking for natural stone tiles.
Compared to many others which are more expensive, this helps you create the natural earthy look in your house within your budget.
The travertine is normally available in varying shades of beige and can be conveniently used for the bathroom and kitchen.
They are also used for sink backsplashes and all such areas that are prone to higher water usage.
Needless to mention these are water resistant and last for reasonably long periods.
11. Encaustic Cement

Often people confuse this one with a regular cement tile.
But the fact is there are many differences between the two. The Encaustic cement tile is an unglazed tile, but it is frost-proof.
So, it means, you cause in for tiling exteriors in even very cold places.
A conventional cement tile will crack in such temperatures though. These are normally made of 1 or 2 coloured clay, and the inlay work helps create the pattern on the whole.
This method of tile making dates back to almost the 19th century and the core process remains that way.
It is one of the oldest tile variants, and you can easily find them in libraries, other public buildings and other huge structures.
12. Wood Look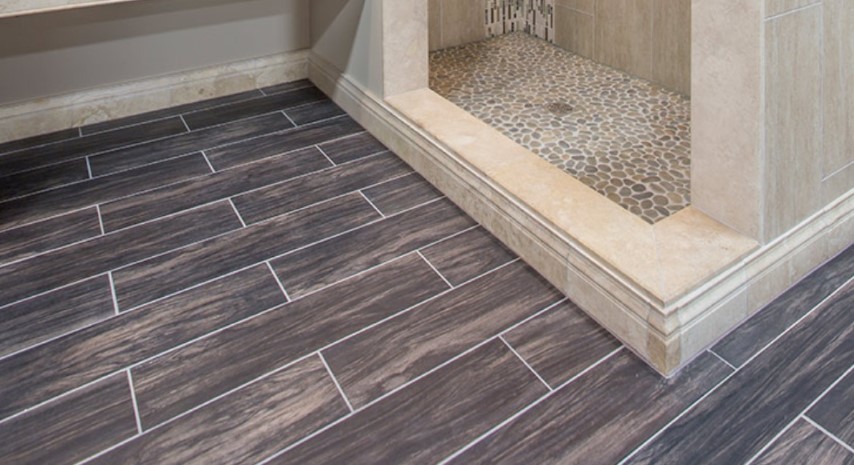 As the name indicates, this is one of the modern tiles that seek to look like wood. But this is not made of wood at all.
These fabricated tiles are primarily made of either porcelain or natural or ceramic. But the final finish gives the appearance of a slightly distressed wood.
It helps you create an easy maintenance wood look at home. It is easy to clean, convenient to install and decidedly cheaper than real wood.
Unlike conventional wooden tiles, it is water resistant and can also be used in areas with excess water usage.
Compared to natural wooden tiles, it lasts longer too. It is also a versatile flooring alternative.
13. Quarry(Unglazed) Tile

The quarry tile is an extensively used flooring solution both in residential and commercial areas.
It is seen as an especially convenient option for high traffic commercial set-up.
A case in point will be the commercial kitchen, like that of a busy restaurant or a hotel or even a catering joint. This is because the unglazed quarry tiles are extremely durable and can help you realize a lot better value for money.
They are also water resistant, and you can avoid slipping using these.
In almost one go, you have something that is both convenient and affordable. But it can be stained easily. So it is best to use a glaze like a seal on the quarry.
14. Natural Stone

As the name indicates, they are made of natural stone. It can be a wide array of stone from quartz, sandstone to marbles.
They are generally available in a mind-boggling range of colours, quality and sizes. The natural colour instantly brings in a distinct vibrancy to your house.
The natural shades quite distinctively range from beige to bright copper reds.
These are generally porous and have to be sealed.
However, all natural stone tiles are not very water resistant. They are water resistant to varying degrees.
These are mostly anti-bacterial in nature and helps maintain a hygienic atmosphere at home.
15. Sandstone

These are amongst the most durable natural stones. These tiles can be easily identified by their grainy texture and beige, brown warm tones.
In fact, the grainy texture is the most distinguishing feature of these tiles. They are often used in areas like the kitchen.
The warm colours lend a unique cosy feel to the house. It also enhances the interiors and reflects the natural light quite beautifully.
They are also extremely durable, heat resistant and moisture resistant.
16. Terracotta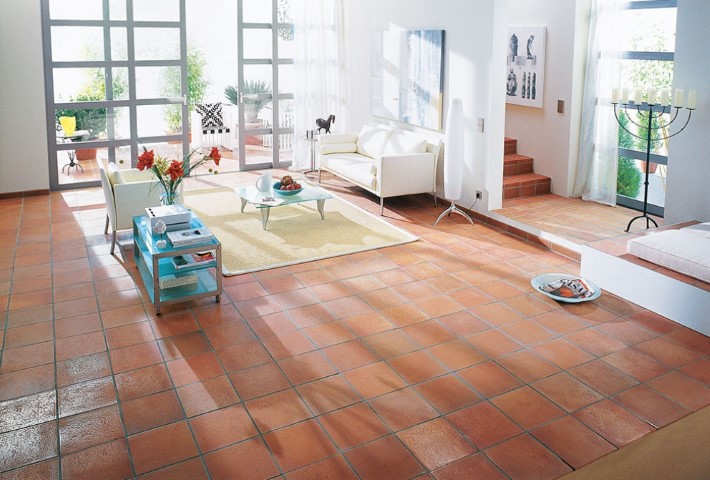 These tiles are strong, reliable and extremely fire resistant. They have a unique earthy feel to them and make your house cool and comfortable.
In very simple terms, these tiles are made of cooked clay. This one is created by exposing refined clay to very high-temperature heat.
The durability and versatility of the tiles are the biggest advantages. It makes these tiles a popular choice for a variety of flooring solutions.
These are available in typical earth colours, i.e., red and brown. If you want to revive the old world warmth in your house, installing these tiles can be the easiest way to do so.
It instantly makes your house glow with the warmth of the subtle earthy charm and understated class.
17. Vinyl Tiles

Given the stupendous range of options that are available, this is becoming a much sought-after flooring solution in homes and offices.
Most times, the vinyl tiles reflect the look and the feel of the natural stone tiles. But the advantage is that you get the same look and feel at half the price or sometimes even less than that.
These tiles are extremely functional and practical as well. You also get to choose from a wide range of options.
Installation is also simple. But you must remember, it emits VOCs, and it is not fire resistant either. Find out more Vinyl flooring information here.
18. Limestones Tiles

The durability of the limestone tile is somewhere in between the range.
Primarily a type of sedimentary rocks, the beauty of these stones add glamour to just about any floor you choose to cover with it.
The primary mineral in limestone is calcium carbonate.
These days, you get processed variants that have the pores tightly sealed. They need a certain degree of maintenance but add a distinct character to the rooms where these are used.
Most times, limestone tiles are used outdoors as well. The replacement of these tiles is also fairly simple. Though slightly more expensive than synthetic options, it is fairly affordable.
Proper installation ensures that your house gets the same grand look that marble or more expensive stone tiles can offer.
19. Linoleum Floor Tiles

The primary reason that most people opt for Linoleum is undeniably the price factor.
It is decidedly one of the cheapest flooring solutions that are available now. As a result, it is an extremely popular option.
Quite contrary to popular beliefs, this is very different from vinyl linoleum. Unlike that, this is a natural tile made of natural materials.
The name Linoleum indicates that this is made of Linseed oil and has been around for close to 2 centuries now. This is a recyclable and eco-friendly flooring alternative.
The natural elements also lend the Linoleum tiles a unique shine. Often this is what makes it a great option coupled with the huge range of colours and designs.
These are also water resistant and easy to maintain on the whole.
20. Cork Tiles

This is one of the unique flooring solutions available today. It is absolutely eco-friendly and helps maintain a hygienic condition at home.
It is resistant to mold and mildew, and if you are prone to allergies, this can be the best bet.
Today you have a fairly wide range of patterns and colours to choose from. This helps give a stylish edge to your flooring solutions.
Whether you are walking barefoot or with stilettoes, it is going to win you over.
It is warm and comfortable for those who are bare feet and absolutely silent for those trying to avoid the click-clack of the high heels.
They are also very easy to maintain, but the health benefits are the biggest positives for cork tiles.
21. Glass Tiles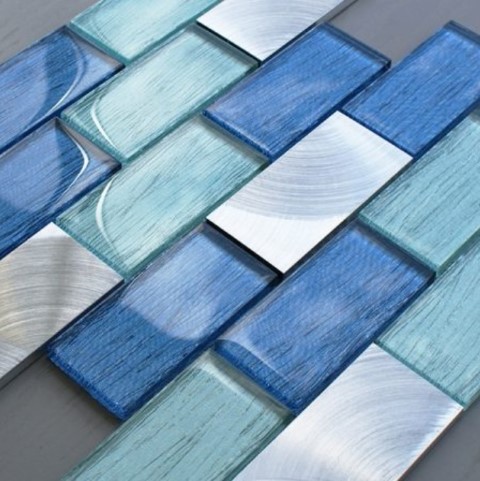 This is one of the most beautiful and durable options for your flooring needs. They make your floors look stylish and glamorous and exude an air of understated luxury.
You can use these in combination with porcelain and ceramic or just standalone.
One thing that is for sure is that if you have installed these in your house, it is hard to avoid making heads turn.
The depth and transparency of the glass create a stunning impact on the overall house decor.
22. Digital Printed Tiles

These are one of the most beautiful specimens of customized tiles. It is also a reflection of the kid of horizons that technology has reached now.
These digitally printed tiles are created with the help of combining new age printing techniques with a digital representation of artwork.
Whether you are looking at customized tiles for wall murals, your kitchen or imposing artwork in commercial set-up, this is the popular method employed.
It creates a naturally vibrant look and enhances the stylish quotient of the floor.
Latest software makes it possible to transfer just about any design or artwork on to the tiles.
23. Western Tilework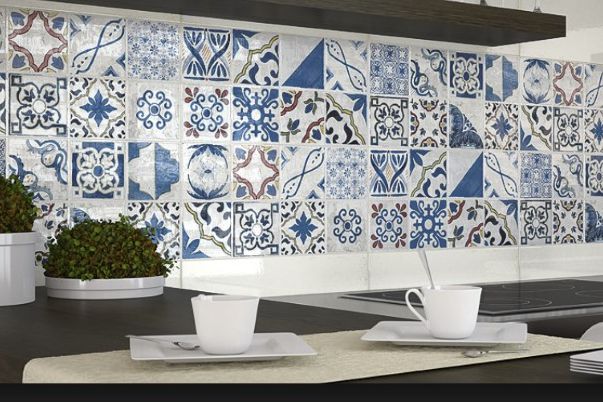 If you are looking for a dose of retro décor on your floors, this can be an easy option.
Traditionally in Europe, you had a wide gamut of religious stories painted on tiles. These are some of the best specimens of the medieval artwork across Europe.
Many of these tiles are still preserved in some of the best museums across the continent.
The Western Tilework refers to flooring solution that mirrors these elaborate paintings on your floor.
These are generally very intricate and need care and regular maintenance for best results.
24. Marbonite Tiles

Marbonite tiles are essentially vitrified tiles that are sold under the Marbonite brand name.
Specially created by the HR Johnson Group, these tiles are available in both glazed and polished variants.
They are stain resistant because of the special coating to reduce its pores. As you can imagine, these are very easy to maintain and need only basic cleaning.
Another interesting aspect of these tiles is that they mirror the effect of the marble tiles. So the look and feel are generally as grand and luxurious as premium quality marble tiles.
25. Vitrified Tiles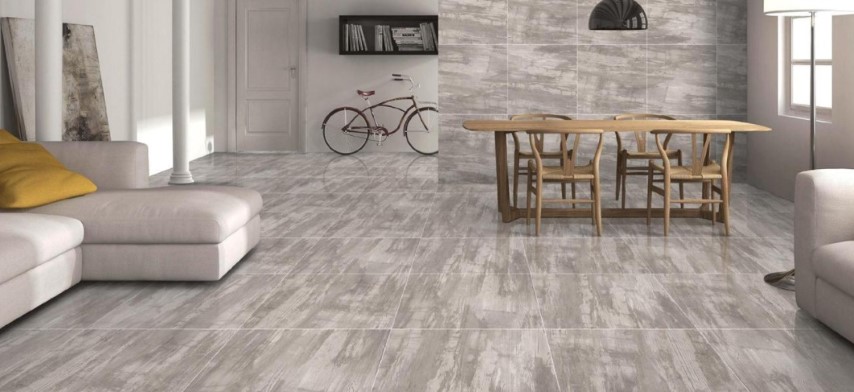 The vitrified tiles are one of the most common forms of tiles used across the world.
These tiles are created by combining a mix of several other minerals like quartz, silica, and clay at very high temperature.
It has very low porosity. They are coated with an external glaze and have a fairly limited water absorption rate, thus they are very suitable for outdoor use.
However, these tiles are extremely sturdy and reliable. They are far less expensive than marble and such luxurious flooring solutions but are very attractive to look at.
They are also easy to clean and a fairly low maintenance flooring solution. Needless to mention, they are stain resistant too.
Conclusion
Therefore, there are various types of tiles that you can choose from for your flooring needs. Different products have different advantages and demerits.
In terms of affordability too, they differ significantly. So you have to combine the various facets and choose the most reliable alternative.
You Might Also Like:
1) How to Install Flooring Tiles: Step-by-Step Guides