With spring just around the corner, why not give your home a fresh, new look?
May you be considering a change of colour or perhaps a look to give a complete transformation to your house?
We all love our homes and spend a considerable amount of time building, decorating, and maintaining them. So, why not work towards getting it in style and making it all the more comfortable this year?
True, renovation is not an easy thing to do. It takes up quite a lot of time, thought, and effort and not to forget, the budget. However, it doesn't always have to be above the roof. It all depends on you and how far you want to take it.
The Importance of Home Renovation
Home renovation is a tough job. With the prices ever increasing and technology evolving at a fast pace, it is getting harder to keep up. You have to keep thinking and making a million comparisons before you can finally make up your mind about what to do and what to add to your wait-till-the-budget-allows list.
However, your home is your living space and the more comfortable and stylish it is, the more relaxing and satisfying it will be for you.
Renovation gives a modern and trendy look to your house.
It gives you a more organized and manageable living space.
It is a great investment for the long run. Even if you wish to sell the property in the future it can yield you much higher returns than a house that requires a lot of revamping and effort.
It helps keep the home safe and secure from the environmental hazards, thefts, as well as other factors.
Your house will no longer need frequent repairs or maintenance.
What Factors To Consider Before Starting the Home Renovation?
a) The Budget
The budget is a prime factor to take into consideration before starting off. You need to make calculations and have a solid idea about how much you can spend on the refurbishment at a certain point in time.
For a better idea, you can start with a friend or relative who recently went through the renovation process. You can ask them about the costs and comparisons of the various fixtures, fittings, etc.
Carry out a market research to have a general idea about the current market prices of all the items you wish to change.
Keep a portion of your savings separate as spare cash. In the case of need, you can always take it out.
The budget gives you a set of limits to work around. It lets you be prepared beforehand and also helps keep you from spending any extra cash.
b) Tastes and Preferences
Your taste, preferences, and requirements come next. It is your house, and everything you do should be as per your own requirements and taste. There may be many ideas that are quite 'in' or the latest in home renovation, but all of them will not work for you.
Choose what you like and would want to have fixed or changed and focus on that.
Find the right renovation contractor. It is the best to go for one who's tried and tested. Always ask around and take a look at the actual work they've done. You may also go through various internet websites of the contractors and find the one that suits you best.
It is the best to stay on track and be practical at all times. We all adore the dreamy, magical homes, but one has to be realistic to avoid any undesired last minute disappointments.
7 Home Renovation Trends in 2017
When you are working around the house, you are spending quite a lot of effort, time and money. You wouldn't want all this effort to go in vain by letting anyone say, that those tiles, you spent so much time to pick are so last year! Or the cabinets you worked on, are no longer an 'in' thing. Right?
So in order to give you an idea about the latest trends, we have listed the top seven renovation trends for 2017. Read on to decide which we can incorporate around the house.
1. Smart Technology
Technology continues to evolve – smart devices are no longer a novel thing this year. A good percentage of houses have converted from the traditional ways of getting things done around the home to let technology come to the forefront.
Amongst the widely used smart-tech devices are the security cameras. You will find different types of these cameras, with various features and installations, to fit your home.
Security cameras with motion sensors, alarms, flashlights, and those which allow communication are the most talked about these days.
Other appliances which make lives easier and more comfortable can also be placed or installed around the house. For example, home sensors which let you know about any repairs that are needed or temperature adjustments that may be required.
These home sensors or other home sensing solutions can be easily bought and get your home the ultimate smart tech look and comfort in no time. Make life easier and save up a considerable time you spend on fixing and doing other chores around the home by installing these.
Smart locks, temperature regulation mechanisms, smart Televisions, etc. give the house the 'smart home' appearance. Really a winner if you are considering a sale in the near future.
2. Keep the Space Small and Livable
Malaysia property price is getting higher recently. Large mansions, bungalows, and luxurious houses are no longer seen as practically livable. People are becoming more realistic these days and with both the husband and wife out for work, there is less time on hand to look after the house.
Hence a more compact set up with a spacious interior design, and lots of storage place are the most sought after by buyers these days. Keep it small, but more organized. A separate laundry room, home office space, and nicely lit and maintained kitchens and washrooms work the best.
3. Go for the Matte Finish
Gone are the days of the ceramics, polish, chrome and shining stainless. This is the age of subtlety, and the elegant matte finished interiors.
Stainless steel in the darker shade especially black has become part of the latest trend this year. The matte finish has entrenched the markets and gone beyond the tiles and floors and even paint jobs. Many of the fixtures including the showers, faucets, kitchen appliances, etc. are all being manufactured in the matte finish due to the increasing demand.
Keeping everything as per the themes and colour scheme is most important at all times.
You will easily find accessories, fittings and other appliances for the bathroom, kitchen, lounge etc. which are made with the same matte finish. Get these fitted to match your tiles, floor, and walls.
4. Smarter Kitchens
Hoods and hobs, induction cookers, fittings with sensors, are all no longer just a dream. Why not enjoy all the convenience while you can?
Induction cookers let you set the precise temperatures and save up a considerable amount of time you spend on the stove.
Hoods and hobs make it more convenient and hassle-free cooking.
If you have the budget, get these installed straight away. It not just makes your kitchen look more appealing and up-to-date, but also gives you the convenience of a lifetime.
Add a bar counter or space. This gives you the glamour and style to your home in an instant, particularly if you frequently have guests to entertain.
5. Color Coordinate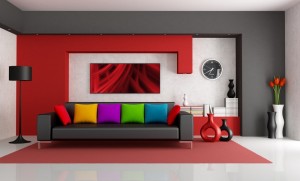 Nowadays, whether you set out to buy tiles or any of the home appliances, even the faucets, you will find a huge variety in terms of styles and colours. Reason being, people now look for colour contrasts and follow certain themes when setting up their bedrooms, kitchen and the bathroom.
You cannot and should not have more than three colours in a single room setting, as a rule. Home appliances manufacturers have also taken the fact into account. They are now coming up with a wide range of appliances in different colours and sizes to add to the appeal of the room.
So, be it the microwave oven, water dispenser or the washing machine or freezer, you can easily select the one that matches the colour scheme of the kitchen or the laundry room.
Go for the nice, cool hues to give your house more space and a brighter appearance. However, for the kitchen and bath, you may go for the darker shades.Different shades of blue are the trendiest these days.
Complete the look with a stylish appliance or device to go with your colour scheme. The larger appliances like the refrigerator, washing machine, freezers, etc. are the ones that are the most noticed in a room. Make sure they match or add a contrasting shade to the overall look.
Set up new counter places, racks or cabinets for a better organization. These do not just give the house a neat look but also provide you more space to keep all the gadgets and other necessities.
Geometric designs and hexagonal tiles are a rising trend these days. However, if you prefer a cleaner space, go for the elegance of white.
Marbles in the colours of greys and whites are increasingly becoming popular. You can use the same for your floors, tabletops and even buy matching vases and other decorative ornaments.
Natural tones and wooden flooring, stone textured tiles and subtle shades are quite in fashion as well.
6. Add a Touch of Green
The colour green is not just appealing to the eye, but also gives a fresh and revitalized look to the home. Green walls, floor mats and plants, and all the elements which add a touch of refreshment to the house are a must have.
You can place indoor plants to give your eyes the much needed soothing effect or simply get one living room wall painted in a nice bright hue of green to add the effect to the home.
Also with the increasing awareness about the environment, people are becoming cautious about the economy of usage and dangerous emissions. Opt for those machines which are environmentally friendly.
Product manufacturers have taken into account the recent market trends and are manufacturing products that are energy efficient. You can always look for such options when thinking of buying new ones.
7. Lighting
Lamps, spotlights, flashlights, chandeliers, etc. all work towards creating a nice, warm ambience in the house. You can select from a wide array of options for the lights suited for all the rooms.
In future, the hanging lights are more in vogue. Spotlights and overhead lamps look warm and add a nice touch to the overall look of the house too.
Pendant lights are the best and most versatile to be placed in bedrooms, baths, and even kitchens.
Lighten up the dark alleys and living spaces to create more space and give a wide view of the entrance.
Conclusion
So here you have it. The article gives you the top seven, most en vogue renovation trends for this year. Giving your home just a touch of love and care is all it needs to shine. It gives you the most comfort and helps win the praise of the guests.
Especially if you are looking into putting up the house for sale in the future, renovation helps get you the best buyers and top rates.
Here are a few recommendations for your home renovation this year:
Start from fixing and repairing all flaws. Remember workability comes first and is followed by style.
If you have a limited budget, do not despair. You can always look for the most feasible solutions. Nowadays there are a variety of products available starting from a minimal range up to the highest premium price.
Consider the external environmental conditions of your city. Make sure your efforts are not wasted by mere rain or the extremely hot climate.
Stay abreast of the latest trends and do your homework before starting off. A short market survey doesn't hurt. It gives you an idea about the prices and availability of the items you are looking for.
Happy renovating!
You Might Also Like:
1) 31 Do's For Home Renovation
2) 19 Roof Renovation Tips For Your Better Home
3) 10 Do's and Don'ts of House Renovation
4) 18 House Extension Designs to Improve Your House Appearance
5) 81 Simple Renovation Tips To Transform Your House Into A Designer Masterpiece