We all want our homes to look great, don't we? To add style and class to our home, one of the crucial elements in a house design is its flooring.
If the flooring is not up to the mark, the entire look of your interior is compromised no matter how much you invested in other things. While it does a huge favour in helping you improve your house looks, flooring is a lot more scientific and there are a lot of things you should know about.
Problem with Flooring
If you're lucky enough to have a problem free floor without having installed any flooring in your house, you belong to a very small minority. In most cases, you will find people complaining about their internal flooring problems. Some of these are:
Cracks due to a certain accident or ageing.
Leakage of water especially in the bathrooms.
Ordinary looks due to concrete finish.
There can be many more problems people face with flooring but we have highlighted the most common for you. We are sure you can relate to them somewhere.
The Solution to the Problem
Thankfully enough, there are solutions available for almost all of the floor problems. You will find a lot of interior design geeks talking about different types of flooring. None of them beats vinyl and we will tell you why.
In this article, we will learn about Vinyl Flooring; all you need to know about this amazing form of interior decoration which just not only looks good but also relieves you of all your possible worries related to flooring.
By the end of this article, we are sure you will be able to find out solutions to your current flooring problems and might jump right into your car to buy vinyl flooring for your house.
A Small Introduction
Since this thing has to be installed in your house for years, it is really important to know what exactly it is.
First of all, remember that the core purpose of flooring is to hide your concrete floor and shield it from different damaging agents. Vinyl flooring gives you just that. It is just another kind of resilient flooring.
Vinyl flooring is mainly produced in North America. Although its production is spread out worldwide, North America is considered as the main hub. Artificial flooring has been a trait for more than a century but it has been just a little while since Vinyl has taken over. It's mainly because of its several health and cost benefits.
Why Vinyl Flooring Only?
There are also other forms of artificial and resilient flooring available. The reason why these floorings are so popular and common is that they replicate the natural texture of wood, marble or ceramic but at a cheaper cost.
Here are some other types of resilient flooring:
Rubber flooring
Plastic flooring
PVC flooring
Linoleum flooring
Having seen some of the other types of resilient flooring, you might be wondering why we particularly emphasize on Vinyl flooring for your house. Here is what you should know:
Vinyl flooring is a developed and more advanced as compared to Plastic.
It is completely hygienic, unlike PVC which is known to introduce harmful chemicals that can pollute the environment inside your house.
They are easy to maintain and walk on, unlike rubber flooring with higher chances of slipping.
This is just a simple comparison of Vinyl flooring with other flooring types. We will look into more details as we discuss some of the major advantages of Vinyl flooring.
Top 7 Advantages of Vinyl Flooring
Vinyl flooring is now commonly used everywhere. You will find them in offices, shopping malls, hospitals, houses, etc. There are reasons for such popularity of this product and if you're wondering what the advantages are, here is what you should know:
1. Soft Surface
Vinyl is an intelligently designed material. Vinyl flooring is comparatively softer than other flooring options. The reason for this softness is that it has a thin layer of foam under. Unlike marble and ceramic tiles, you will feel more softness beneath your feet when you stand on a Vinyl floor. This particularly helps when you are likely to keep standing for a longer duration, like working in the kitchen.
In a way, Vinyl takes better care of your feet than any other flooring type. As you walk on it, there is a feeling of comfort beneath you.
2. Easy Maintenance
If you have rubber flooring, you will understand how hard it is to clean and maintain your floor. Rubber tends to absorb any liquid that spills on it. Therefore, the stain marks are never completely removed no matter what detergents you use.
With Vinyl flooring, you won't need to buy expensive cleaning agents because Vinyl flooring is really simple and convenient to maintain. This is because vinyl floors have a thin protective layer at the top. This layer is made of chemicals that do not absorb the liquid. Hence you can clean the floor with a swipe of a wet cloth. Find out How to clean the Vinyl Flooring here.
Chemicals? We understand some people don't like the term "chemicals" but do not worry. All chemicals used are approved without any risk to health.
3. Adds to the Beauty
One of the major advantages of Vinyl flooring is the wide range of versatile designs that you can get. When you talk about marble or wooden flooring, there is not much you can do about the floor design because they have natural textures.
With Vinyl flooring, the possibilities are near to endless. These artificial floors can be given any colour, tile shape, design, and texture. Depending on the manufacturers, you can replicate wood, marble, ceramic designs and more. This gives your floor a natural look and is comparatively cheaper than other natural floor materials.
4. Water and Dirt Resistant
As we mentioned earlier, Vinyl floors are easier to maintain. Be it water spills or any dirt, it won't penetrate into the floor. Vinyl is efficiently coated allowing it to keep off dirt on the surface which can be easily wiped and mopped.
5. Efficient Insulation
Insulation is a key factor when it comes to flooring. Vinyl is engineered intelligently and it works as a great insulator. If you live in extreme climatic regions, your floor can become quite cold or hot depending on which side of the extremity level you fall on.
However, if you like sleeping on the floor you won't have to worry about such temperatures with Vinyl flooring. It can keep off heat to a considerable degree and it also doesn't get affected much by such temperatures.
6. Easy Installation
It is so simple to install Vinyl flooring that you can do it on your own if you have a do-it-yourself attitude. Vinyl is available in the form of tiles and longer strips. Depending on your need, you can go for any of these.
While you just need glue to stick these tiles to the floor, we suggest you ask for professional help rather than getting your hands dirty. You will definitely feel the difference between the two installations and if you don't believe us, try competing with the professional floor installer.
7. Vinyl is Durable
You wouldn't want to be spending on flooring in two years time again, would you? Well, you can free yourself from this floor upgrading for as many as 20 years or more if you go for Vinyl flooring. This is one of the reasons why Vinyl flooring is so cost-effective.
Once it is installed, it is there to stay for a long time. With such easy maintenance and installation, we don't find a reason why anyone can go for other flooring options.
Vinyl has some seriously great advantages as you just read. We are sure you have found the solution to your flooring problem after reading this section.
Where to Install Vinyl Flooring?
Vinyl floors are highly versatile mainly because of their flexibility. They can be installed anywhere unless there is a firm and clean surface beneath them. You can directly stick them on concrete, other floor types and even layer it over another Vinyl floor.
Here are some considerations as to where Vinyl flooring is highly suitable.
Inside a house, use vinyl flooring in common walkways because they are soft and comfortable.
Where there are chances of messy floors such as kitchen and washrooms, Vinyl floors are ideal because they are easy to clean.
To give your office a much professional look, vinyl flooring is best because you can have any kind of texture.
This one might seem weird but you can even floor your swimming pool with Vinyl. Unlike ceramic tiles, there are lesser chances of slipping in the pool.
Covering cracked and damaged concrete floors.
Apart from the above-mentioned areas, any other place you think needs to be upgraded in looks should use Vinyl floors.
How to Install Vinyl Flooring?
Since now you must have made up your mind about buying Vinyl tiles, here is a quick guide to help you install these tiles correctly.
It doesn't matter if you ask for professionals to install it for you. It is always good to know how it's done so that you can correct the floor installer in case they make a random mistake.
Ensure that the floor underneath the tiles is clean.
Lay down the tiles in your desired position.
Roll up half of the tile to apply the adhesive.
Use a trowel (notched) to better apply the adhesive.
As per the instructions for adhesive usage, give ample time for the adhesive to grip the tiles.
Lay back the fold tile carefully while applying uniform pressure on it to help it better stick to the ground.
Perform the same procedure for the other half of the tile.
You can see for yourself how easy it is to decorate almost any type of floor with Vinyl. The best part is that you can do it on your own if needed.
Be Aware while Using Vinyl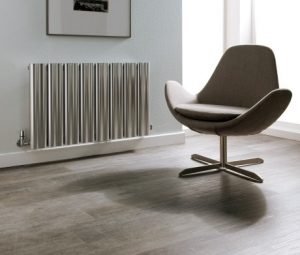 You must be already in your car looking for a Vinyl flooring shop but just before you go, here are some important considerations you should be aware of.
Vinyl is an advanced version of PVC which was known to be chemically dangerous. Therefore, newly made Vinyl tiles may have some of the dangerous elements in them.The good thing is that due to further advancements, the newer versions of Vinyl tiles have least adverse effects. The bottom line is to buy a piece of tile that has been in the shop for about two to three weeks to completely evade any of the negative effects.

Vinyl flooring although looks great but it doesn't add to the property value.

Vinyl sheets are very flexible – make sure they have strong support underneath. Never use them as a bridging material because they are not designed for this purpose.
Taking Care of Vinyl Flooring
Vinyl flooring doesn't require much of maintenance but there are some important precautions to look at. Focus on the following points to prolong your floor life.
After installation, you will have to be a little careful not to allow any sharp object fall on the floor. Vinyl tiles can be damaged and cut which won't look too good.

Install furniture pads beneath the sofas and cupboards to avoid your tiles from scratching and popping out.

Once installed, it is not all that easy to remove Vinyl tiles. If it is necessary to remove the tiles, you might damage some of them in the process.
If you take care of these simple things, your vinyl flooring is set to stay there for years. There is possibly nothing else that can affect your floor until it is some newly discovered algae that simply eat vinyl. Just kidding!
Conclusion
Congratulations! You have successfully learned all there is to learn about Vinyl flooring. This is such an interesting form of flooring that it has taken everyone by storm. Its production has risen in the recent year thanks to appraisals it has received from the people.
So now that you know what you have been walking on in your office, it's time to get the same flooring for your home too. It is highly affordable and in the longer run, it will be even lighter in your pocket.
Look for your favourite textures and designs. Try and replicate some vintage floor designs or get your house a funky floor. You can even try a combination of different tiles for different rooms. The possibilities are endless thanks to this amazing innovation in the field of artificial flooring.